Cardiac Specialty: Cardiac Cath/Inv PV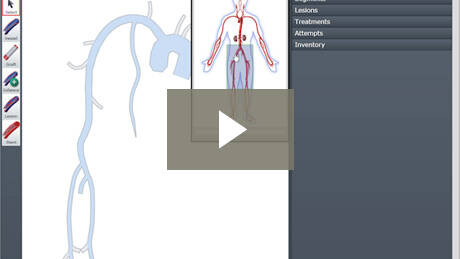 Reporting, fast and simple
Developed using a cardiologist-directed design process, Synapse Cardiovascular v5.1 optimizes workflow and enables rapid completion of detailed procedural reports.
The diagram-driven graphical user interface has workflow boosting features that include:
Report template and diagram pre-populated with lesion and device data
Drag-and-drop tools to make changes
WYSIWYG data exchange that allows user to see report update in real time
"Carry forward" function that moves data from previous lesion diagrams to the current diagram
Macros, One Click Normal, Dragon voice and pre-established comments to minimize typing
---
Powerful new features for cardiac cath
Synapse Cardiovascular manages information from both hemo and x-ray systems within a single, vendor-neutral database, allowing for the creation of highly detailed data summaries to streamline peer review, clinical best practice evaluation and business operations without the need for a standardized hemo systems across the enterprise.
Available diagrams for the cath module include:
Lt dominant
Rt dominant
Co dominant
View the cardiac catheterization video on this page to find out more about Synapse Cardiovascular's report-preparation enhancements.
FUJIFILM EXHIBITS ANNUALLY AT THE
Expand your capabilities with
Synapse Cardiovascular
Contact your Fujifilm representative:
Call +1-800-431-1850
Submit the online form